There's nothing like coming home to a hot meal, especially one you can prep in advance and cooks while you're away. With the new Slow Cooker Stand you can turn your Rockcrok® Everyday Pan and Dutch Oven into a slow cooker, cooking or warming food at one of three different settings for meals made or reheated in no time. Here are some hacks and recipes to get you slow cooking in no time
1. Easy Prep, Easy Cleanup
Prep food the night before in the Rockcrok® and keep it in the refrigerator overnight. Bring it to room temperature before cooking. Ingredients such as vegetables or chunks of meat should be uniform in size, if possible, for even cooking. Use the high setting when you're short on time, the low setting for recipes that can cook all day and to simmer soups and stews, and the warm setting for reheating already cooked meals. Line the Rockcrok® with parchment or aluminum foil (depending on the recipe) for easy cleanup.
2. Get to the Meat of It
When using a slow cooker, fattier meats cook best (they're usually cheaper, too). Think chicken thighs rather than breasts, brisket, chuck roasts, short ribs, or pork (but not pork tenderloin). Thaw meat that will be cooked whole; it's okay for meat that's shredded or in chunks to be used from the freezer in a pinch. Dig into our Root Beer Ribs for a flavorful option that's sure to please a hungry crowd.
3. Sensible Seasoning
Because meals cook for so long in a slow cooker, it makes sense to use dried herbs and spices rather than fresh ones because a slow cooker will overcook them. The spices shouldn't be added last but rather above the main ingredient (such as the meat) so that the flavor mixes well. This isn't necessary when making a soup or stew. For recipes that call for broth or stock, consider adding bouillon cubes instead and mix with less water than directed. This will limit liquids in the slow cooker. The Garlic Parmesan Chicken with Cauliflower Mash features a well-seasoned mix of garlic, parsley, and Italian seasoning.
4. The Deal About Dairy
Dairy can be used in a slow cooker but should be added toward the end of cooking time to avoid curdling. Make sure it's fresh, and cook only on low heat. Adding some cornstarch will also keep dairy from curdling and it's a good option for thickening liquids, too. Alternatively, you can make a roux with equal parts butter and flour plus a little milk to thicken a dish with too much liquid. Start your day off with a hot breakfast with Overnight Steel Cut Oatmeal.
5. Lowdown on Layering
Typically, meats go on the bottom of a slow cooker, followed by spices, then vegetables, other dry ingredients, and then liquids, which should cover everything. Denser vegetables like potatoes can also go on the bottom so that they'll cook thoroughly. Speaking of layering, you can also poach fish over a layer of herbs or steam vegetables over a layer of lemongrass on top of water (or another liquid). Your slow cooker can be used to make just about any dish! There's nothing like the smell of our Slow Cooker Minestrone made in the slow cooker on the weekend to gather family around the table.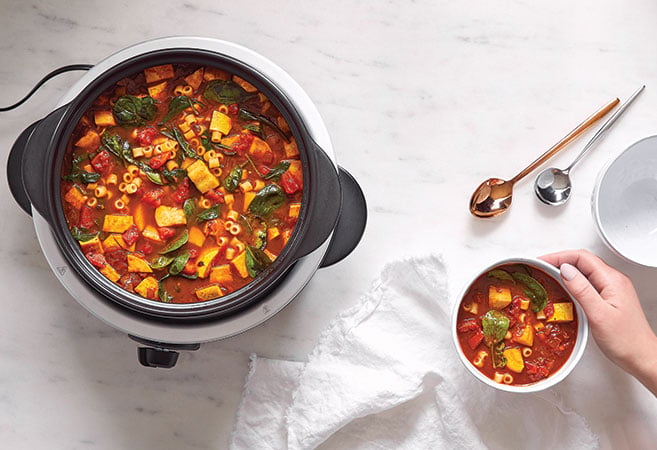 What's your favorite slow cooker recipe? Share it with us in the comments below.