Bringing your kids into your kitchen can be challenging. There are potential messes (and hazards) everywhere. But the rewards of cooking with your family far outweigh any clean-up headaches afterward. (The kids should probably learn the value of dishwashing while they're at it.) And cooking can be done safely with the right tools, recipes, and supervision.
Baking is a fun way to start kids on the path to becoming confident home chefs. Everyone is rewarded with a sweet treat at the end of a job well done. Along the way, kids learn the value of measuring and math skills, see some science in action, practice reading and vocabulary with a recipe, and work on social skills like teamwork.
We created kitchen tools and recipes that make it easy on kids (and parents) to learn the basics of cooking and baking.
Meet the Kids' Cookie Baking Set
Forget the Easy-Bake-Ovens® and pretend cooking tools. This colorful baking set is the real deal. Each tool in the set meets the same quality standards our Test Kitchens apply to all Pampered Chef products. Not only were they tested by professionals, they were tested by kids, and approved by kids.™ This Cookie Baking Set is ideal for any junior chefs ages six and older.
(Pssst! Did we mention all of these tools can go in the dishwasher?)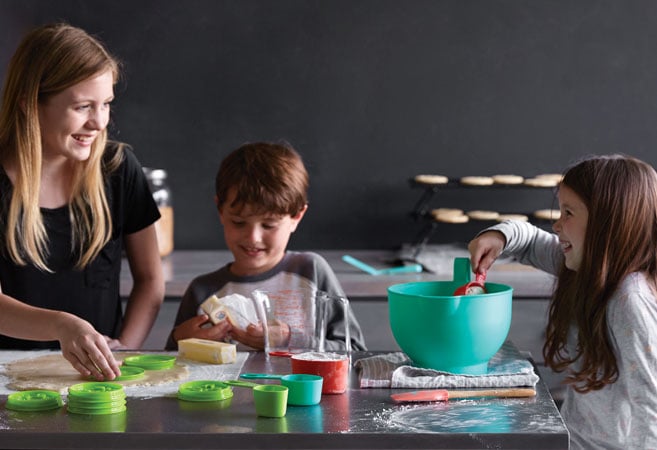 The Mixing Bowl
The vibrant teal bowls holds 13.5 cups (3.2-L) and has a wide pour spout that's easy for kids to control. The handle is designed for the way kids hold large bowls—most prefer to hold a handle or the sides of the bowl. The non-slip ring on the bottom keeps the bowl from skidding away during a session of enthusiastic stirring.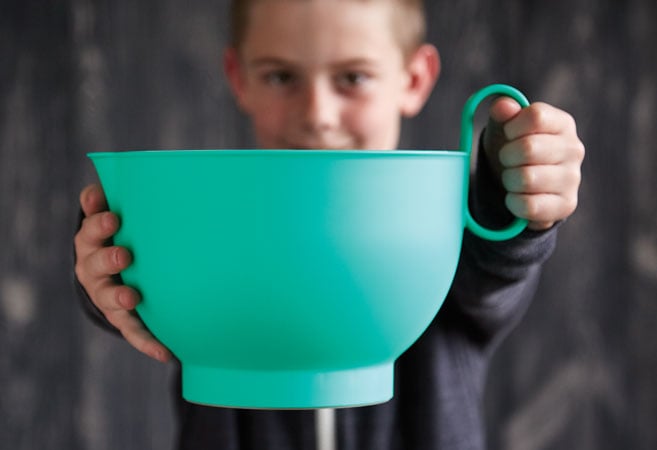 Stackable Measuring Cup Set
This space-saving design snaps together a 3-cup (750-mL) liquid measuring cup and four colorful, clearly labeled, dry measuring cups—all with easy-grip handles.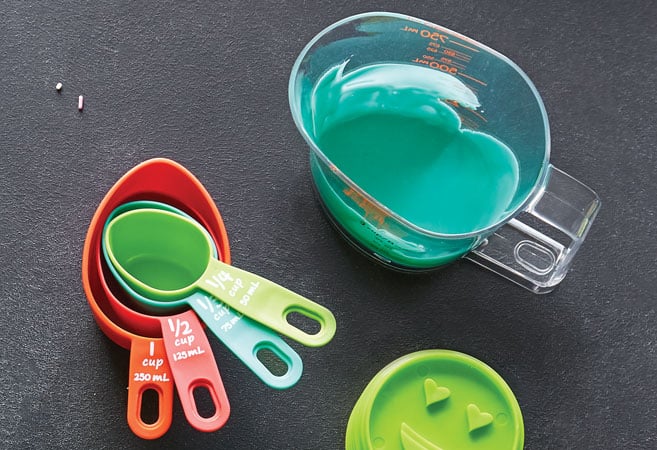 Mini Nylon Serving Spatula
Now your little ones can proudly serve up their culinary creations. This pretty teal tool has the same exact specs (7¾"/20-cm) as our bestselling black Mini Nylon Serving Spatula for grown-ups.
Funny Face Kitchen Scraper
This goofball scraper will have your little ones giggling nonstop. The face of this silly kitchen buddy is heat-safe to 600°F (315°C) and the handle is made of bamboo. Length: 9¼" (23.5-cm).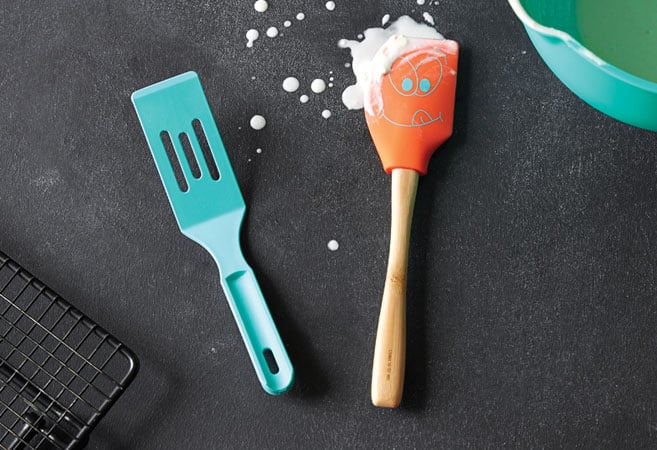 Recipes
This set comes with four fun cookie recipes. Baking instructions include colorful, handy icons that tell kids when they need to stop and ask an adult for help. Recipes include:
Frozen Chocolate Sandwich Cookies
Peanut Butter Cookie Pops
Watch how to make Frozen Chocolate Sandwich Cookies
Emoji Cookie Cutter Set
These seven emoji faces were designed by a group of children who visited Pampered Chef's Home Office as part of the Get Kids Cookin'™ research and development. Each emoji makes a 3″ (9-cm) cookie.
This set is included in the Kids' Cookie Baking Set, but you can also buy this cookie cutter set separately for $12.50.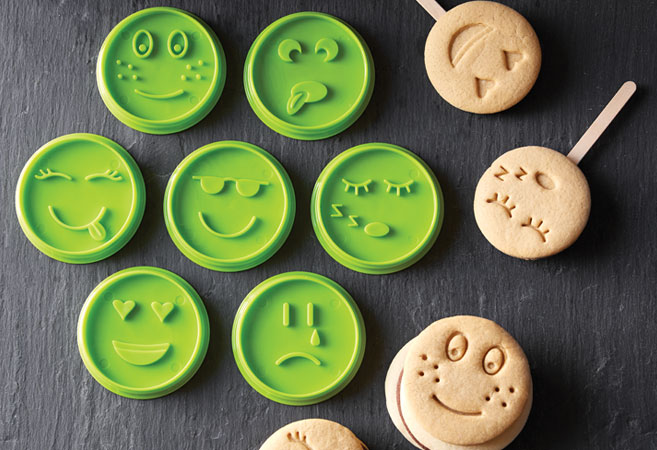 Cookies: The Perfect Indoor Craft Project
When you need an activity to keep a group of little ones occupied, why not try baking? Give each child a task to do, and each can express their creativity when they decorate! Share their works of edible art with friends and family using #PamperedChefkids.
Here are some of the ways you can turn the Kids' Cookie Baking Set into an instant party tool:
Bake Shop Birthday Party
Sweet Dreams Slumber Party
MasterChef® Junior Birthday Party
Holiday Cookie Exchange Party
Bake Sale Project
Rainy Day Baking Project
Baking Family Traditions
Some of our most powerful family memories and traditions are tied to food. These ties can last for generations. It's why moms pass down their stoneware to their children when they've grown. It's why, despite the millions of internet recipes, we keep great-grandpa's handwritten apple pie recipe in a safe place in the kitchen.
When you create a cooking experience for siblings, they learn to work together. When children help grandma as she imparts her expert cookie dough technique, they're more likely to remember these moments and grow a deeper connection to their family and build basic cooking skills that will last a lifetime.