When did the holiday season turn into a marathon of physical and emotional endurance? From decorating the perfect house, to beautifully wrapped, Instagram-ready gifts for everyone, to massive amounts of cooking in less time so much anxiety builds up in a few exhausting months.
First of all, it's okay to lower expectations and stop pinning impossible holiday craft projects online. Focus on the things that really matter to you during this special time of year. Time with loved ones around a meal is at the heart of these celebrations. The meal itself doesn't really matter. It doesn't have to be fancy, but it's the catalyst for bringing your family and friends together.
So put your energy where it matters most. Spend a little extra time before the holidays to assess your kitchen. A well-stocked kitchen and quality tools will make holiday meal prep much easier. Here's a checklist of essential items you'll need to get holiday meals on the table without the fuss.
Matching Baking Dishes
Got a large family planning to descend on your home? Reduce the number of serving dishes you'll wash at the end of the night by using baking dishes that can feed a crowd and look beautiful on the table. Pampered Chef stoneware baking dishes are an American-made material that's sturdy, durable, and retains heat. It's been a part of Pampered Chef's product line from the very beginning.
This set of matching gray baking dishes is perfect for holiday side dishes like stuffing and mashed potatoes. The 9" x 13" baker holds 14 cups of Butternut Squash & Apple Stuffing which is plenty to serve 16 dinner guests. Use the small and medium bakers to divide up about 12 cups of mashed potatoes, so it's easier to serve on both ends of the table. Or use the medium baker for potatoes and the small baker for a baked cranberry sauce.
Deep Dish Pie Plate
Any pie (even one with a store-bought crust) will look extra beautiful in this scallop-edged pie plate. Quick Tip: To keep your pumpkin pie filling from shrinking away from the crust after it's baked, let it cool to room temperature in a warmish spot before you put it in the fridge. P.S. whipped cream covers all pie imperfections.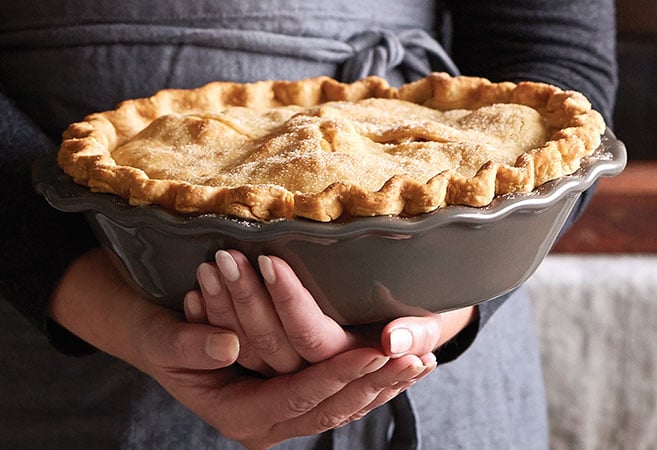 Large Stockpot and Strainer
Every kitchen needs one solid, deep pot that'll accommodate big portions for large crowds or batch-cook meals to get you through the busy weeks leading up to the holidays. This non-stick workhorse holds 9 qts. of any one-pot meal you can dream up, from chilis to stews to pasta.
Wine Tools
Have the bar fully stocked and ready when company drops by. An easy-to-use wine bottle opener is essential to getting everyone in the spirit quickly without risking pieces of cork floating in your wine.
It doesn't hurt to have an aerator to bring out flavors in your red wines. It makes your wine taste better, and guests can start enjoying their wine immediately. Have wine tags or glass markers available so glasses don't get mixed up.
Quick Tips: For a four-hour dinner with 8 adults, plan for 8 bottles of wine. You can find really excellent wine these days for under $15.
Premium Cocktail Set
Make your holiday celebrations stand out with a well-stocked bar and a high-quality cocktail set. You'll never have to worry about missing the essential barware you and your guests need to make better tasting drinks with fresh ingredients. Ask a friend or a family member to play bartender before the meal.
Avoid overspending on alcohol by keeping the selection small. Offer simple cocktails you enjoy and know how to make well. Consider Manhattans, martinis, and gin and tonics for the holidays. Another option is to provide the ingredients and instructions for guests or the designated bartender to mix a festive signature cocktail like an Apple Cider Bourbon Cocktail or a Cranberry Collins.
Serving Platters
Update the look of your holiday table with trendy neutrals using these stoneware serving platters. These will complement any dishware you already have. You can bake and warm up appetizers, sides, or main dishes right on these platters. Bring them right from the oven to the table and serve!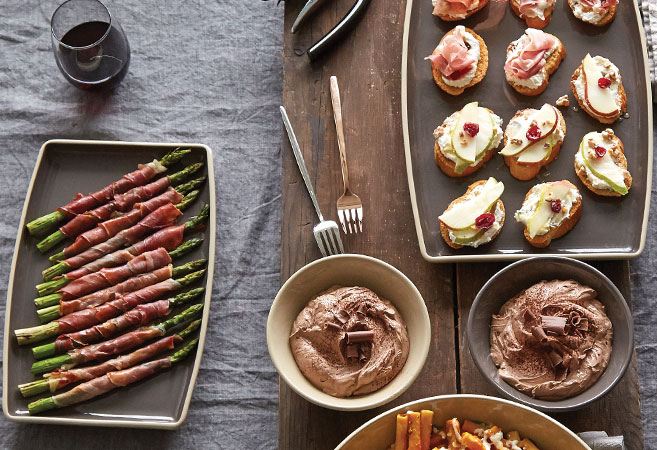 Kids' Cookie Baking Set
The holiday season is a great time to let family get more involved with preparing the big meal. Who says you have to do it all by yourself?
You can turn a tedious day in the kitchen into a family afternoon activity with the kids. Yes, you have to let go of a little control, and maybe spend a little more time on cleanup, but you'll see so much confidence and pride in your children when they can tell all the relatives what they helped to make in the holiday feast.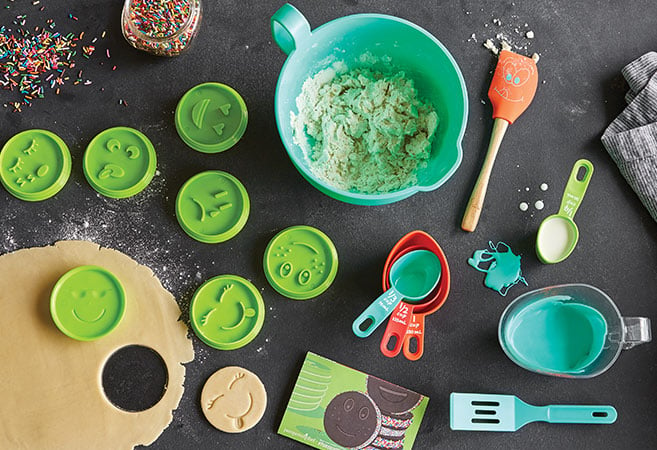 Well-Stocked Pantry List
This fall, take an inventory of your pantry and spice rack. If you have these basics on hand, you can whip up lots of simple meals at a moment's notice and save emergency trips to the grocery store. Print this article and stock up.
Baking Basics:
Spices:
Oils, Vinegars & Sauces:

All-purpose flour
Granulated sugar
Powdered sugar (confectioner's sugar)
Brown sugar
Baking soda
Baking powder
Honey
Canned Pumpkin
Baking chocolate
Semisweet chocolate morsels
Pecans
Walnuts
Peanuts
Raisins
Dried cranberries
Mixed dried fruits
Sweetened condensed milk
Evaporated milk
Whipping cream
Salted butter
Unsalted butter
Eggs

Cinnamon
Allspice
Vanilla extract
Cloves
Ginger
Nutmeg
Sea salt
Kosher salt
Pepper
Garlic powder
Cumin
Basil (or buy fresh and store in the Herb Freezing Tray)
Rosemary
Thyme
Dried oregano
Curry
Smoked paprika

Extra virgin olive oil
Vegetable oil
Balsamic vinegar
Red wine vinegar
White wine vinegar
Apple cider vinegar
Whole grain mustard
Ketchup
Marinara sauce
Canned diced tomatoes
Chicken stock
Vegetable stock
Beef stock
Soy sauce
Jams/preserves
Quick Fixes:
Drinks:

Frozen bread dough
Frozen pie crusts
Instant biscuits and crescent rolls
Pizza dough

Red wines (for cooking and serving)
White wines (for cooking and serving)
Assorted beers
Sodas
Coffee
Teas
Instant hot chocolate
Eggnog
This post has been updated since it was originally published in September 2016.
---