If you haven't already fallen in love with our Mix 'N Chop, get ready to. This is one of the handiest utensils you can add to your kitchen tool set. Not familiar with it yet? It's a clever little item you can use to break up food right in the skillet. It was designed with ground meat in mind. Instead of trying to cut it up with a spoon or break it apart with your hands before you toss it in the skillet, you can use this tool to, well, mix and chop it all at once. Doing this gets the pieces small enough that they can cook quickly and evenly, with minimal effort on your part.
We just love this item, and we're confident you will too. Sure, we're biased, but only because we're proud. Here are three reasons the Mix 'N Chop is sure to win your heart:
1. Less Time In the Kitchen
Busy people everywhere, rejoice: Using the Mix 'N Chop means you have fewer dishes to do overall. This tool cuts down on your overall dish load in two ways: It does the work of multiple utensils during cooking, and it allows you to skip some of the prep process. For example, if you're cooking ground beef, you'll want a tool that can move the meat around the dish. You'll also need to dice the meat so it's in smaller pieces and cooks evenly. Rather than breaking out a spoon for stirring and a spatula for breaking the meat up, you can just use this single tool.
"Cut down on prep and finish dinner faster."
How does it cut down on your prep process? Say you're adding some tomatoes into that ground beef. Instead of spending lots of time dicing tomatoes into small pieces, you can cut them into fourths and use the Mix 'N Chop to break them apart once they've cooked a little. Not only does this save you time, but it also allows more of the tomatoes' juices to flavor the meat.
The device is easy to clean, in addition to being dishwasher safe; so if you'd like, you can just rinse it off and pop it into the machine. If you wash your dishes by hand, a kitchen dish brush will work perfectly to get between the blades quickly and easily.
Remember earlier when we mentioned that the Mix 'N Chop cuts down on the prep process? That also means you'll be finished with dinner faster – perfect for those days you're not so much feeling the "joy of cooking" as you're feeling, "Oh man, I guess we need to eat something."
2. More Than Meat
If you have a Mix 'N Chop and the only time you bring it out is when you're making Sloppy Joes, you are not letting your tool live up to its full potential. The Mix 'N Chop works for so much more than ground meats. For example, it's great for making evenly cooked scrambled eggs, as it perfectly lifts the finished egg off of the skillet so the runny bits can start heating up as well. You can also use it to mix powdered beverages, or to dissolve sugar into iced tea. The shape of the blades helps agitate the liquid more effectively, so powders dissolve faster and more completely.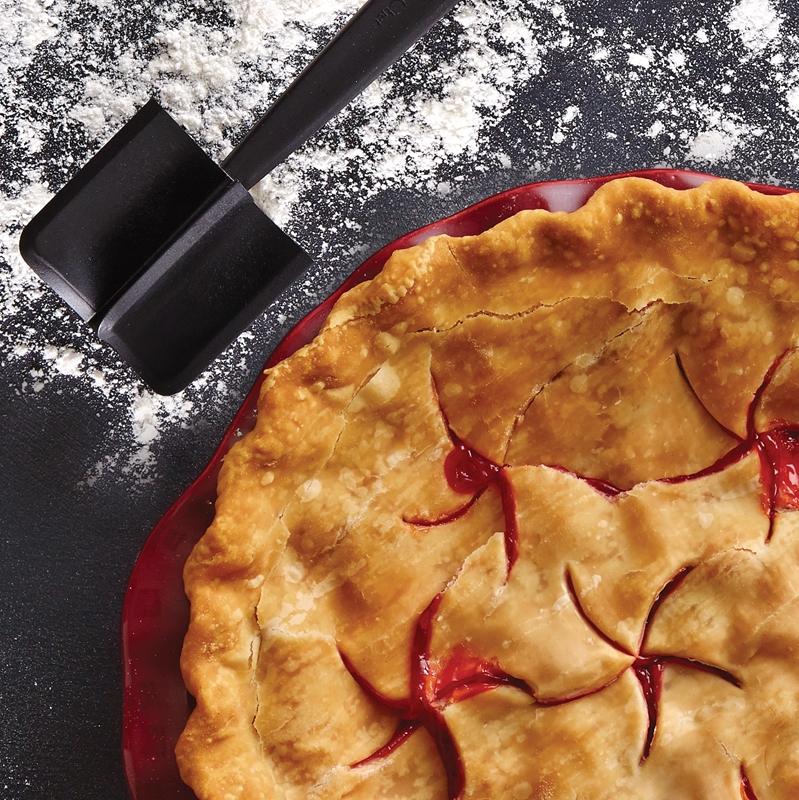 Another great use for the Mix 'N Chop? Pies, pastries, and fruit sauces. If you're making a treat that features multiple fruits, like the medley of berries pie, give the filling a quick go round with the Mix 'N Chop before you pour it into the tin. This won't mash the fruits entirely – it will just give it a nice variety of textures once it's all finished.
3. Just Plain Nifty
We'll say it: The Mix 'N Chop is a cool little kitchen must-have. If you're the kind of person who likes to have tools that are as functional as they are fun, this will fit right into your kitchen. Its sleek black design and whimsical pinwheel blades make it an incredibly beautiful kitchen tool, and it's unique enough to catch any inquisitive guest's eye. There's something special about having the niftiest tools in town, and the Mix 'N Chop is just that.