Pile more fresh fruits and vegetables on your dinner plate this summer. From plump tomatoes to crisp cucumbers and juicy peaches, discover what produce is best during the summer months. Learn fresh recipes to showcase these summer flavors and ways to prep them in a snap. See what's in season.
Tomatoes
What to look for: You can find tomatoes year-round in the grocery store, but they're at their best in the summer months. Find tomatoes that are plump, heavy, and have shiny skin. Give 'em a sniff for a sweet, woodsy aroma.
Preparation: Wash tomatoes in cold water, and slice them vertically to keep the juices and seeds from spilling out. Here are some helpful tools:
What to make: Go Greek with simple and refreshing Fresh Tomato, Cucumber & Feta Salad.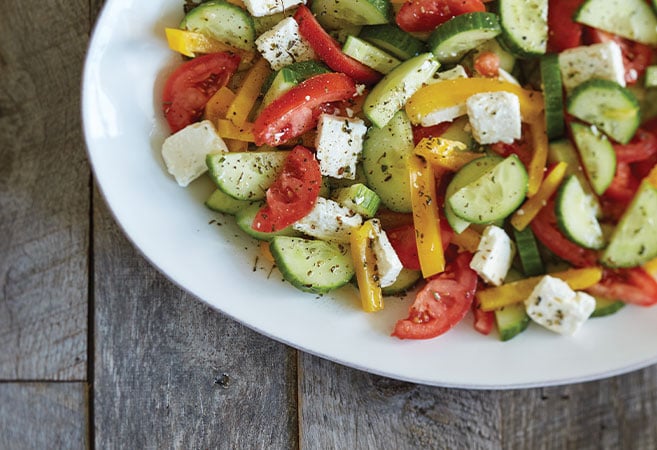 Yellow Squash (aka Summer Squash)
What to look for: Choose yellow squash less than 8″ (20 cm) long. Look for squash with a smooth, glossy skin and no soft spots. A little damage to the skin is okay.
Preparation: Rinse away any soil or debris under cold water. These tools make it easy to add this colorful squash to lots of recipes:
Veggie Strip Maker: Creates long noodle-like strips for salads and pasta dishes. It also grates cauliflower "rice."
Veggie Spiralizer: Make squash fettuccine or thinner spaghetti "noodles."
What to make: Transport yourself to summer in the Tuscan countryside with Grilled Vegetable Panzanella Salad.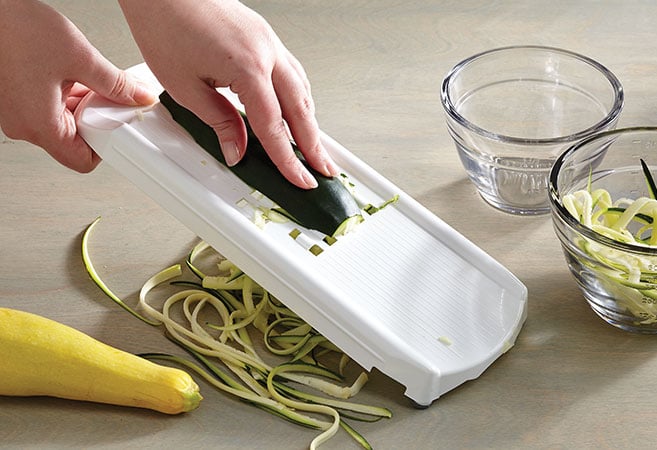 Strawberries
What to look for: Local strawberries are always the most delicious, so shop farmers markets when possible. Choose bright, firm, plump berries with their green "hats" attached. Skip berries that are dull colored or have white areas.
Preparation: Wash them gently in cool water, pat them dry, hull them, and store until you're ready to eat. Strawberries will keep in a leakproof container with a paper towel in the fridge for 2-3 days. Here are three products that make strawberries extra sweet:
Salad & Berry Spinner: Gently spins water and dirt away from delicate berries or lettuce leaves.
Core & More: Why attempt risky maneuvers with a knife when this handy tool removes strawberry stems and saves your fingers?
Egg Slicer Plus®: Despite the name, it works wonders as a strawberry slicer, too.
What to make: Summer Fruit & Spinach Salad is a sweet and healthy dish perfect for a brunch party or light dinner.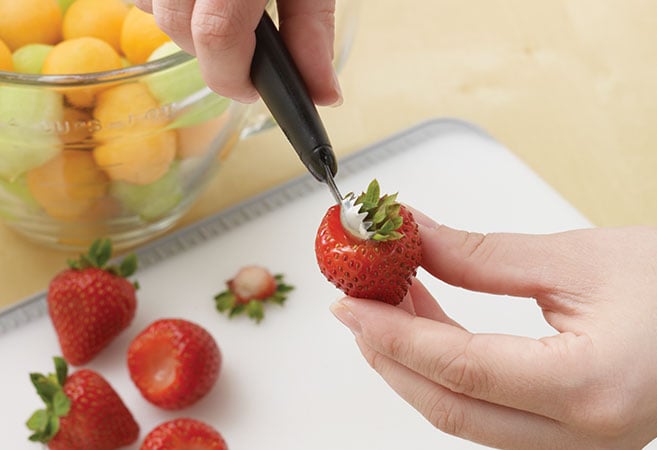 Cucumbers
What to look for: Find cucumbers with bright, even color. Select small, firm cucumbers for crisper texture and finer seeds.
Preparation: Check for a wax layer on the cucumber by scraping the skin with your fingernail. If the cucumber isn't waxed, there's no need to peel the skin (unless you want to). Wash it under cold water. Then, try one of these tools to get them ready to eat:
Core & More: Removes seeds after slicing them lengthwise.
Veggie Strip Maker: Creates long, narrow strips of veggies.
What to make: The party-pleasing Cucumber-Dill Guacamole.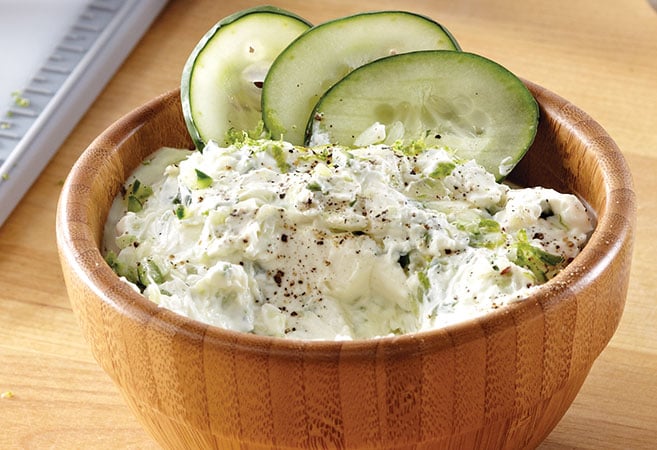 Peaches
What to look for: While a sweet smell is typically a good sign of a tasty peach, color is the best indicator. Peaches should have a bright, vibrant color. Avoid any signs of green. Gently squeeze the top of the peach; if it has some give, it's ready to eat. If it's firm, it will be crunchier, which you might want for grilling. Buy local peaches whenever you can!
What to make: An easy, impossibly quick version of Grandma's Deep Dish Peach Pie.