Instagram foodies and Pinterest lovers alike recently fell for smoothie bowls. It's no wonder why – after all, these treats are utterly customizable, perfectly pretty, and last long enough to feel like a real meal. Want to dive in to this tasty trend? Here are a few tips that will have you crafting your very own bowls o' smooth:
Think Thick
The big trick with smoothie bowls is making sure you don't make the smoothie too thin. The odds are good you'll have to tweak your usual recipe at least a little to make it work in bowl form. There are a few ways you can thicken your smoothie, but the easiest and most straightforward is to simply reduce the amount of liquid you use. You can also swap your liquid for something more viscous – for example, if you usually use milk, switch to yogurt.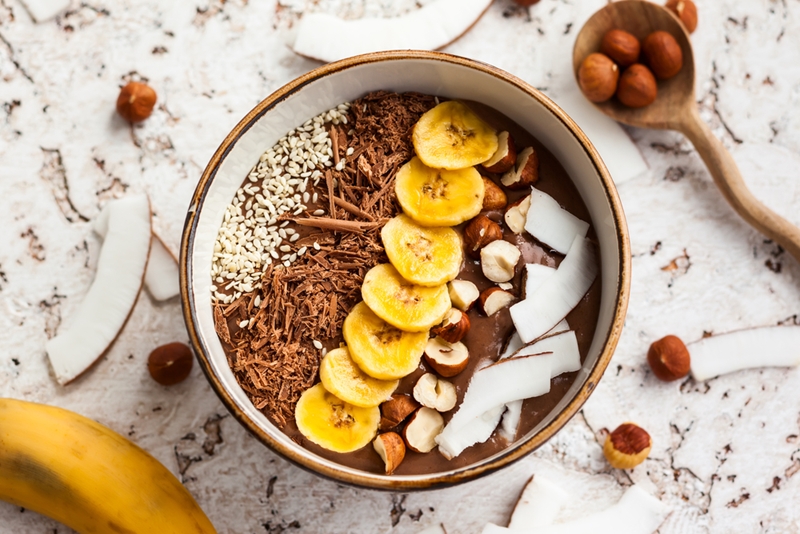 Another easy way to thicken your smoothie is to use frozen fruits. Using ice in a smoothie might make it thick at first, but as the ice melts the smoothie will slowly get more and more watery. Instead of using ice, pop some strawberries or sliced bananas into a resealable bag and leave it in the freezer overnight. You'll still get that crisp consistency without the eventual soup.
Go Green
We all know we're supposed to eat leafy greens for our health, but sometimes that's easier said than done. However, "stir some spinach into your super sweet smoothie snack" might just be easier to do than it is to say. Turning your smoothie bowl green is a great way to up your intake of leafy plants like kale and spinach without much trouble. Since these kinds of veggies tend to have a mild flavor, you probably won't even notice a difference in taste. Add a handful of leaves in before you blend and applaud yourself for being so health-conscious.
Top It Off
Here's the really cool part about smoothie bowls – the topping combinations are limitless. Any ingredient you think will work atop your creation is fair game. If you're not the adventurous type, though, you can always use your smoothie ingredients for inspiration. For example, if you make a strawberry banana smoothie, top it off with sliced strawberries and bananas. The biggest way to take advantage of the smoothie's texture is to contrast it with something nice and crunchy like nuts, seeds, or granola.
Form and Function
Food doesn't have to be pretty to taste good, but smoothie bowls manage to be both delicious and beautiful anyway. That, combined with their inherent trendiness, means you might just want to snap a picture before you dive in. Want the perfect shot? Use your topping ingredients to create contrasting lines – try to put ingredients of different colors next to each other so they all pop. Having a brightly colored smoothie base helps as well.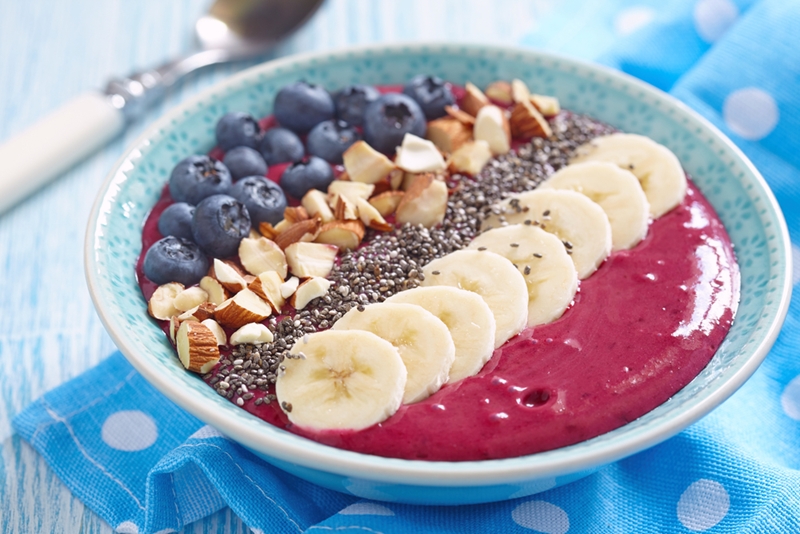 If you feel crafty, gently rest a shaped cookie cutter on top of your smoothie bowl. Fill the inside with one ingredient and sprinkle a contrasting ingredient around the outside. Then, gently lift your cookie cutter and voila! You have a cute little print on your breakfast.