We've all been there—overcooked hamburgers, flies on soda cans, and cheese slices melting in the hot sun. It's your typical cookout. Don't let typical happen to your outdoor celebrations. Check out five tricks to make your next Canada Day bash a sunny experience.
1. Grill the Best Burgers
You don't have to be a master griller to flip burgers like a pro. If you're totally new to grilling, check out the PC Guide to Grilling. If you already know your way around the grill, but can't quite get perfect patties, here are some fast ways to improve your results.
Meat matters. Common ground beef mixes are sirloin, bottom round, or chuck. Chuck is affordable and flavorful. And, fat is your friend. A ratio of 80 percent lean to 20 percent fat will taste rich and juicy.
Shape is essential. Pampered Chef's burger press creates uniform patties that'll cook consistently. And, it makes a slight dimple in the center of the burger. This prevents the burgers from bulging as they cook.
Prevent burned burgers. Have areas of direct and indirect heat set up on your grill. The high heat will give you the browning you desire, then move the burgers to indirect heat to finish cooking. Try to avoid moving burgers around too much or pressing them down against the grill grate. This makes the burgers tough. A thermometer is the best way to make sure your burgers are cooked. You'll want an internal temperature of 140°F (60°C) for medium doneness.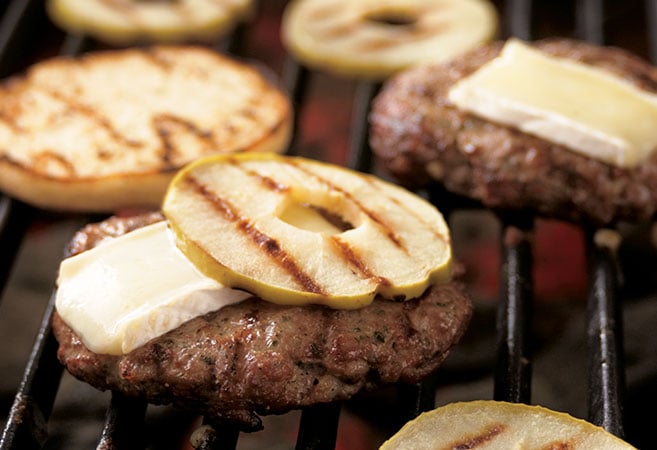 2. Keep the Party Menu Simple
You don't have to do all the work yourself. Invite your friends and family to bring side dishes and drinks while you provide the hamburgers, hot dogs, condiments, and water. Suggest foods that can sit outside for two hours—veggie platters, fruit trays, cabbage slaws, cookies, salsa and chips, and some pasta salads.
Watermelon & Peach Salsa with Cayenne Chips is a great make-ahead option for a guest to bring.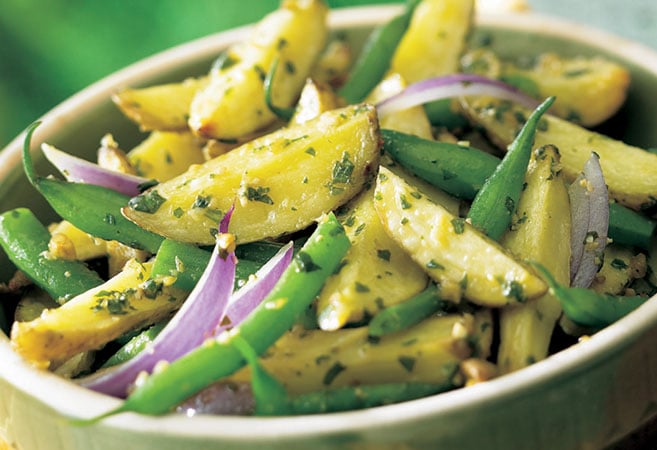 3. Beat the Heat
There are two important ways to overcome hot day dilemmas:
Keep cold foods cold. A tray that'll keep foods cool helps you do that in style. Mayo, cheeses, eggs, and meats shouldn't sit out for more than two hours.TIP: Use a 5-Section Tray to set up a burger bar! Fill the side wells with toppings, and add your favorite sauce in the center.
Keep guests cool and comfy. Have patio umbrellas or a party tent set up to keep everyone shaded. You can also serve cooling foods like berries, watermelon, leafy greens, and Cucumber Water.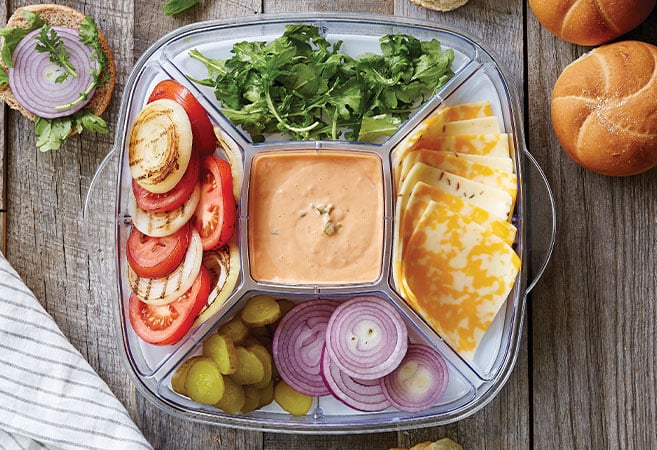 4. Shoo the Flies (And Mosquitos)
Need an easy way to keep bugs at bay? All you need are a few outdoor extension cords and small oscillating electric fans. The steady breezes make it hard for flies and mosquitos to land on your food…and your guests! The fans will also cool down your guests.
Basil, rosemary, lavender, and geraniums can act as natural bug repellent…plus they make cute decorations. Small pots of these plants can serve double-duty. Everyone will be happy! Except the flies.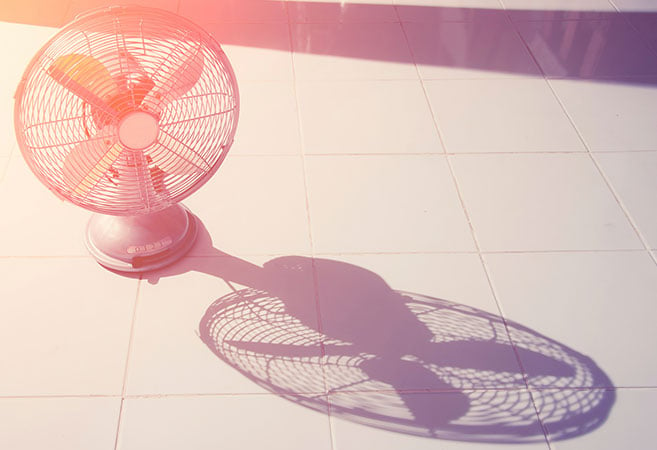 5. Watch the Weather
Any good outdoor party deserves a good plan B. Can your guests fit comfortably in your home? Can everyone party under your covered porch? A party tent can also be a lifesaver if it starts to rain.
Consider tidying up your garage ahead of time. A garage has untapped potential as a covered shelter for food tables and chairs.
Blustery days can also be a challenge for Canada Day celebrations. Try using beautiful river rocks to keep napkins and tablecloths from blowing away. You could even provide river rocks to each guest so they don't end up chasing their plate around the yard.
Have these plans in place before the party so no matter what the weatherman says, the party can go on!