A fun, easy way to feed big crowds this summer is with a burger bar. You might be thinking of the usual suspects: an aluminum foil tray of grilled burgers and a plastic bag full of buns sitting next to a pile of lettuce and tomato. What's so special about that?
With a few small tweaks, you can make your guests feel like gourmet burger chefs when you deck out your DIY burger bar with a beautiful array of unique toppings and specialty condiments. Dress everything up with a little creative décor and—ta-da—an unforgettable burger party! A Pampered Chef consultant can also share lots of great recipes and burger party ideas. Here's how to bring it all together.
Burgers: A Griller's Best Friend
Burgers are a cookout staple that are simple and affordable to make in large batches. They're a delicious foundation for everyone's unique topping combinations! Plus, burgers are almost always a huge crowd-pleaser. (Don't forget a meat-free alternative.)
Looking to improve your burger grilling skills? Read How to Throw a Backyard Bash. It's got lots of helpful tips to avoid outdoor party problems and how to make amazing burgers.
New to grilling? Get started with A Pampered Guide to Grilling for some basics.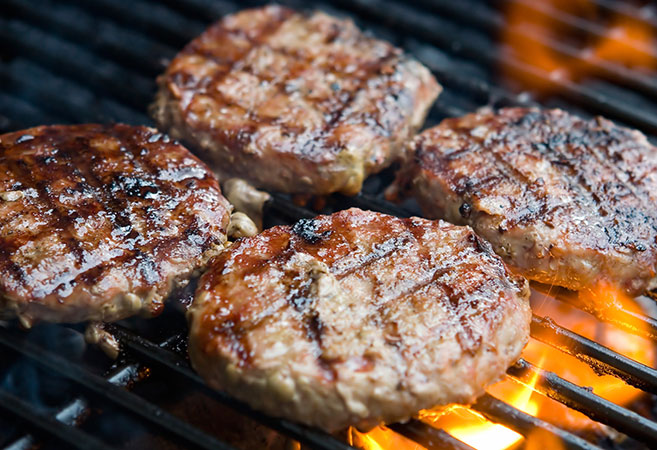 Go Over the Top
The toppings you put out will set your burger bar apart from the standard cookout fare. Go beyond the lettuce and tomatoes. Think arugula or barbecue sauce! Don't just put out the plain mayo. Mix in equal parts sour cream and season it with your favorite seasoning mix to make unique mayo-based sauces.
Here's a list of burger bar toppings to get you started. Use as much or as little of this list as you like. Get crazy and try something truly creative!
Cheeses:
Toppings:
Sauces & Spreads:

Blue
Brie
Cheddar
Pepper Jack
Swiss

Avocado
Arugula
Bacon
Caramelized onions
Dill pickle rounds
Grilled pineapple
Jalapeño peppers
Red onions
Sautéed mushrooms

BBQ sauce
Chili sauce
Dijon mustard
Grain mustard
Hummus
Ketchup
Mayo-based sauces
Pico de gallo
Ranch dressing
Wasabi mayo
Yellow mustard
Or, check out The Ultimate List of Burger and Hot Dog Toppings for more exciting ideas. The best part of letting guests build their own burgers is that everyone gets to make something they will love to sink their teeth into.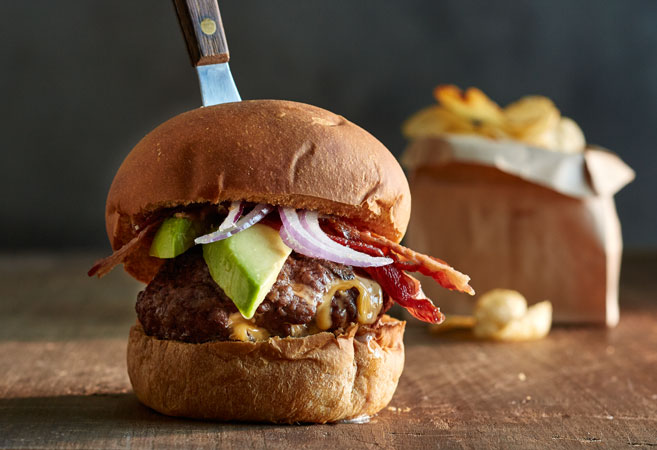 Décor Ideas
How you dress up your table will also set your burger bar apart, even with the most basic toppings.
Use Baskets: Buns look best removed from their plastic bags and arranged in a wide, shallow basket that's lined with fabric. You can drape some of the fabric over the buns to keep them covered. Smaller baskets hold napkins and silverware nicely.
White Platters & Trays: Arrange toppings onto large white platters and plates. Keep the tomatoes (or any toppings that're a little juicy) on a plate by themselves. Pro Tip: The 5-Section Tray for the Large Square Cool & Serve tray keeps a variety of burger toppings organizes, separated, cooled, and beautifully displayed.
Condiments Contained: Don't just set out the big bottle of ketchup and mustard. Use a muffin pan to hold a variety of burger sauces, mustards, and ketchup. It's very affordable and makes your picnic table chic. You can label each dipping sauce with chalkboard tags (so you can reuse them at your next party).
Other cool accents to complete your burger bar:
Galvanized tubs for sodas and brews
Bamboo platter or wooden cutting board
Gingham tablecloth and napkins
Small wooden crates to create levels. (This makes it easy for guests to reach food.)
Ready to party? A consultant can share awesome tools to make that topping prep and outdoor cooking faster and easier. Contact your consultant (or find one) today!
Want more décor ideas for outdoor parties? Check out How to Create a Restaurant Patio Vibe in Your Backyard