Once your holiday ham plan is locked down, you have the incredibly fun task of choosing which delicious sides to serve. But what goes with ham? Everything. Of course, you'll want to serve the traditional potatoes, but other dishes can mingle with and play up your ham's salty, yet sweet, flavor. Whether you're making hosting or bringing a dish to pass, we have you covered with these 9 ham-friendly side dishes.
Why do ham and au gratin potatoes go together? Well, if ham were a superhero, then au gratin potatoes would be its trusty sidekick. The cheesy, tender, creamy potatoes can definitely hold their own, but they stand up to ham's saltiness in a uniquely delicious way. Plus, this recipe is easy to make with ingredients you probably have on hand.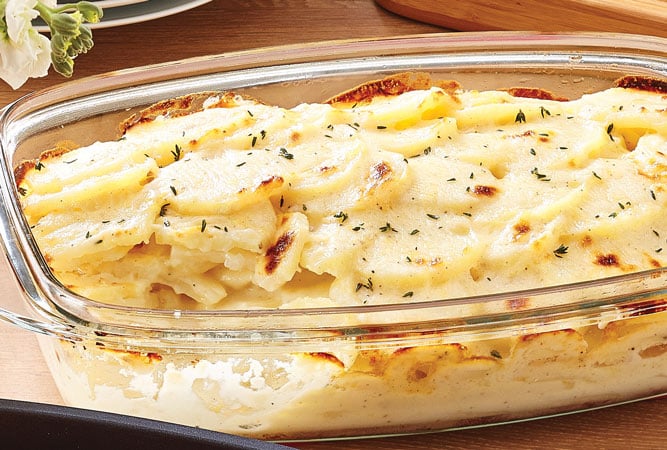 This recipe puts a tasty twist on the traditional au gratin or scalloped potatoes. Filled with savory bacon, creamy Swiss cheese, and sharp onions, and then topped with a crunchy crouton crust, this simple recipe will be a favorite as soon as you take the first bite.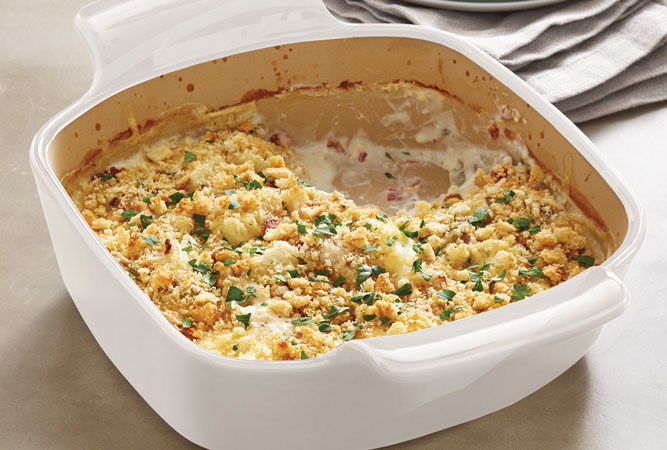 Who says sweet potatoes are just for Thanksgiving? Ham has met its match with this healthy alternative to traditional spuds. The crumbly pecan topping provides a perfect contrast to creamy sweet potatoes and juicy ham.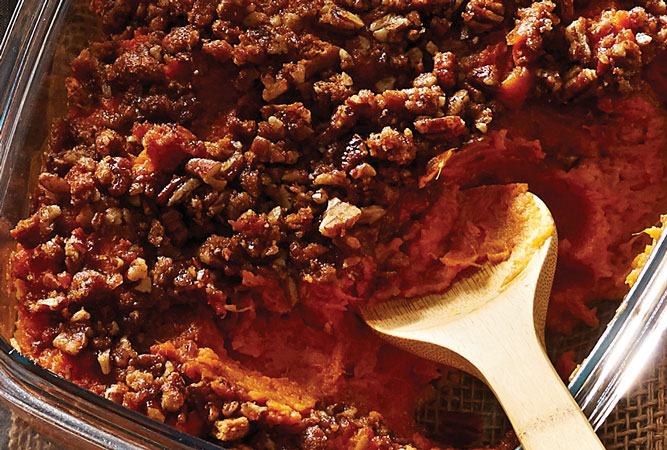 For a quick side salad that's more than a bag of lettuce, simply add small, steamed potatoes, frozen green bean, a can of chickpeas, and some olives. Now that bag of lettuce is a fresh Greek salad. The best part is that you can make the flavorful herb vinaigrette with staples you probably have in your pantry.
You know the brutal chill of winter is on its way out when fresh, summery salads start appearing. This light salad is a lovely contrast to heavier dishes like ham and potatoes.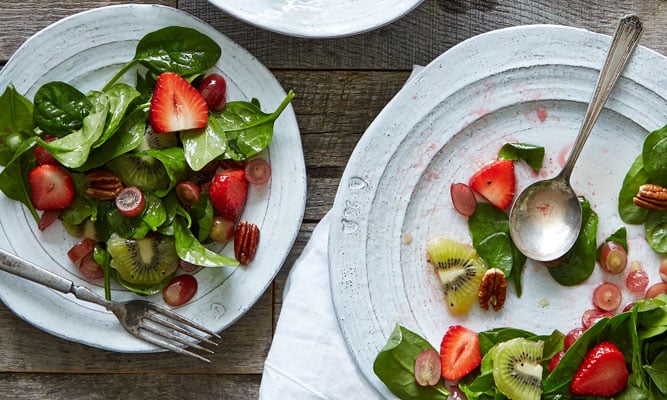 This simple side dish has it all—potatoes, carrots, onion, and spinach, enhanced by a bit of sweet honey and your favorite seasonings. All the bright colors and fresh produce will add a beautiful pop of color to your table or buffet.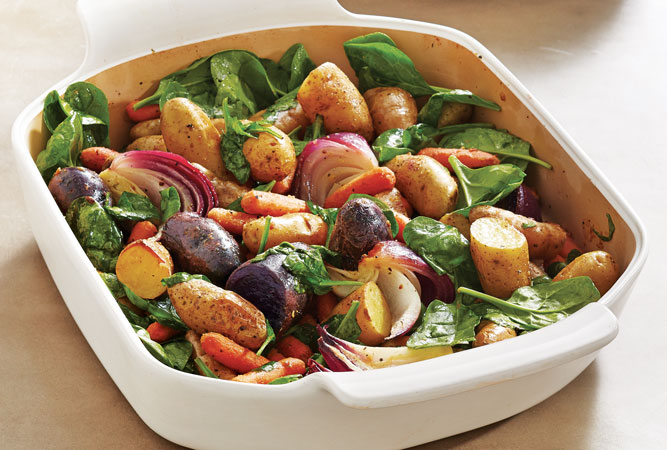 Deviled eggs are synonymous with Easter, and a sure sign that spring has (finally) arrived. They're an absolute staple of springtime gatherings. Make them the traditional way or mix in cheddar cheese and jarred pimiento peppers for an added sweet pepper flavor.
A classic cold potato salad is another great match up with warm ham. But it's easy to end up with potatoes that are too soggy or too crunchy when you make them yourself. No wonder so many of us run to the grocery store deli for this side dish. This pressure cooker recipe takes the mystery and babysitting out of perfectly steamed potatoes and only takes about 30 minutes to make.
This flavorful gratin will be an instant guest favorite. For an easy shortcut, simmer the potatoes to get a head-start and shorten the bake time. Plus, the addition of squash and tomato lightens and brightens the recipe which makes it a beautiful addition to your feast.
What's your favorite side with ham? Do you prefer to stick to traditional sides or experiment with new recipes? Tell us in the comments below.
---