Celebrate Valentine's Day with those closest to your heart by creating and then enjoying these sweet treats—together, of course! These decadent desserts are a snap to make and taste as good as they look; perfect for the holiday or any special occasion.
Whether shared as a twosome or to cap off a dinner with friends, these desserts are sure to end a meal on a memorable note.
Chocolate-Raspberry Cookie Trifle
Consider this elegant addition to an evening with friends or to savor by two over several days. Easily assemble in the Trifle Bowl and let chill in the refrigerator until you are ready to serve.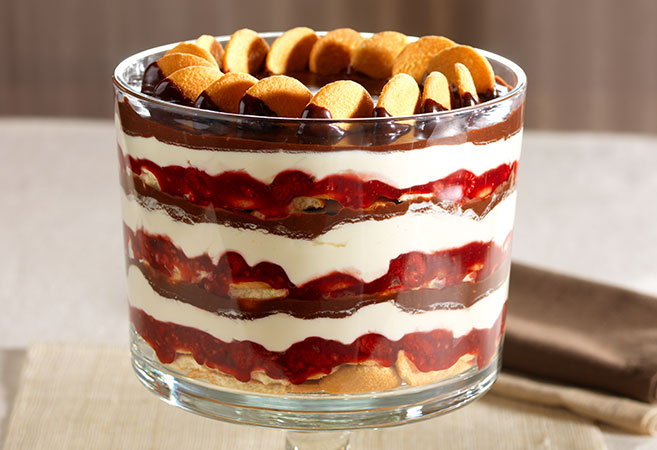 Ooey Gooey Homemade Caramel Sauce
Dip fruit, pound cake cubes, pretzels, or just about anything you'd like—there won't be a drop left!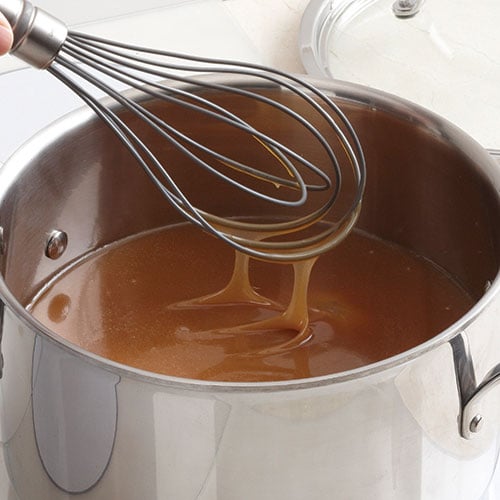 Mocha Skillet Cake
Baked right in the skillet, this warm cake is spread with rich white chocolate coffee ganache and surrounded with chopped toffee bars.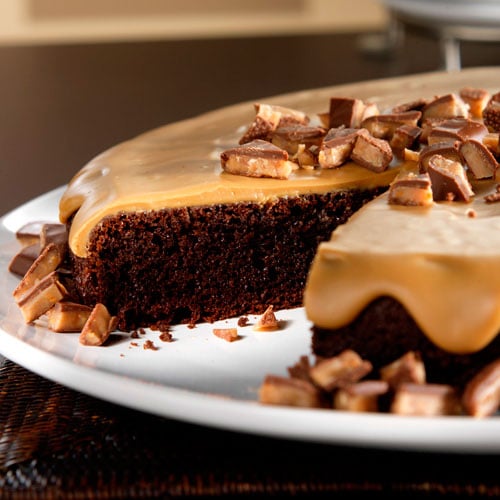 Truffle Brownie Cups
Tiny in size, but big on taste, these are the perfect passed desserts at any dinner party. Top them with your favorite garnish and be sure to make enough for second, even third helpings; they're sure to be a hit!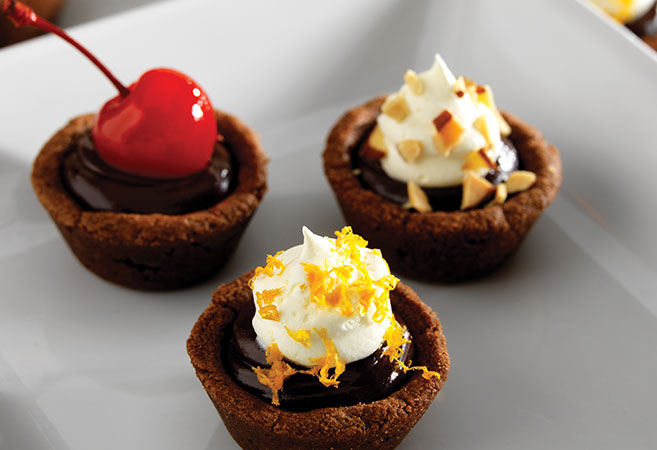 Tuxedo Brownie Cups
There's no need to plan a black-tie event to serve these elegant bites.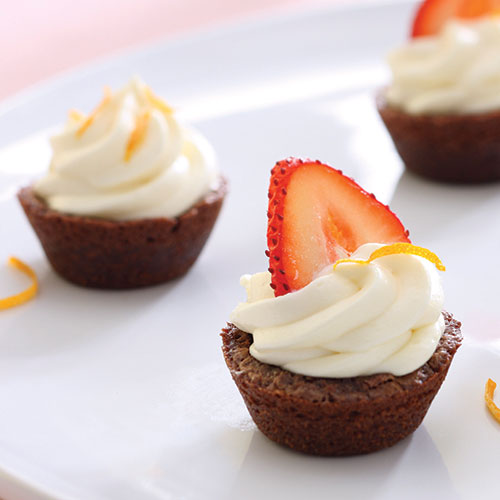 Molten Chocolate Mini Cakes
Instead of the conventional box of chocolates this Valentine's Day, why not whip up a batch of these and create a new spin on a holiday staple?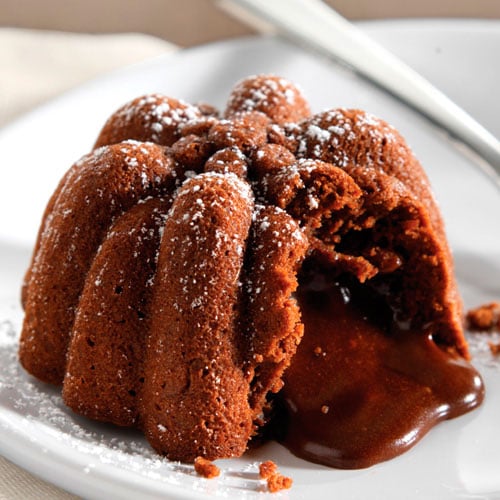 Grilled Chocolate Heart Sandwiches
Share lasting memories and these sweet treats when you make them with and for kids you love. These are easy to make and even easier to eat—sure to please even the pickiest of appetites.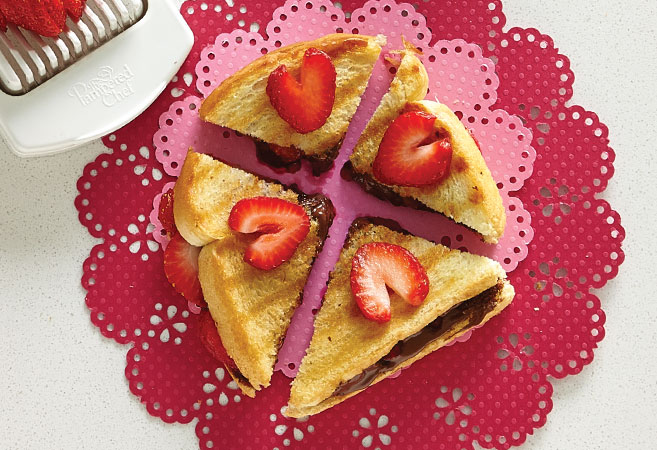 One Bite Pies
Perfect for your favorite cutie, these fit-in-your-hand treats can be made in different flavor combinations for a variety of colorful, sweet concoctions.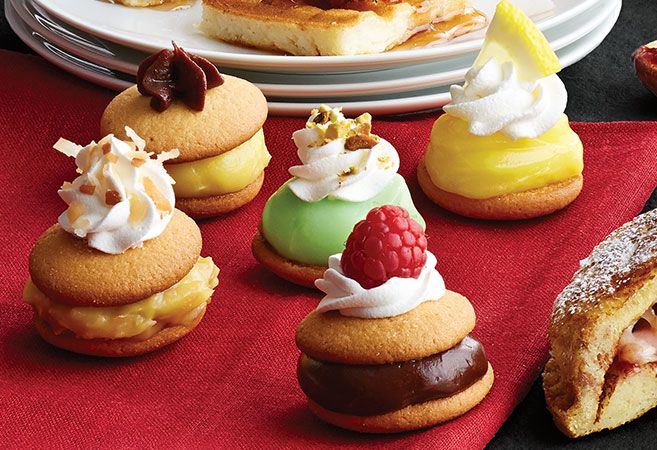 Strawberry Roses
For a sweet, healthy, and simple dessert, fill up a plate with these blooms—made with our Quikut Paring Knife. Younger kids can peel back the petals while older kids can make the cuts with adult supervision.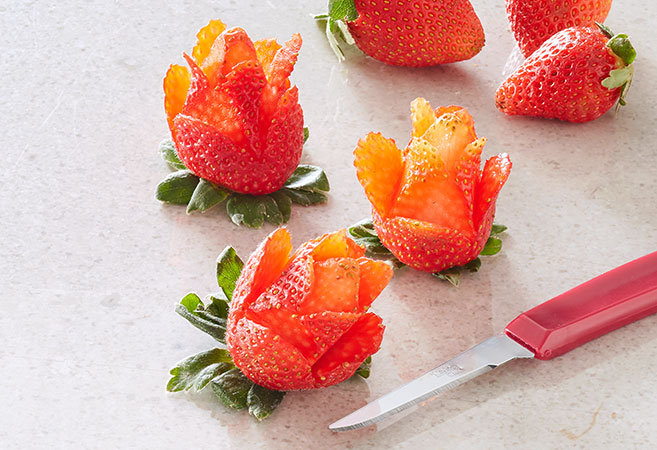 What Valentine's Day desserts melt the hearts of the people you love? Tell us about your most romantic recipes in the comments below.