The Large Square Cool & Serve can do much more than keep a vegetable platter cool at a party (for 4–6 hours!). Its two divided trays, reversible cooler inserts, snap-on lid, and additional tray options (sold separately), make it a highly adaptable tool you can use every day.
Here are 16 nifty examples of how to use it.
Don't have a Cool & Serve? Get yours here!
1. Easy Salad Bar
Imagine opening your fridge and finding a mini build-your-own salad bar waiting for you. This tray makes it possible. Here's how:
Pick one night to be your prep night and fill each section of the tray with your favorite salad mix-ins—diced cucumbers, tomatoes, carrot rounds, pepper slices, zucchini noodles, broccoli florets—anything!
Then, each morning, open the tray, and assemble your salad in seconds. That little bit of prep can help you make healthy choices all week.
Kudos to a top Pampered Chef consultant for sharing this neat idea.
2. Build Your Ultimate Cheeseburger
This tray will keep cheese and other burger toppings cool at your next cookout. Fill the 5-Section Tray insert with slices of onion, tomato, and pickle, plus different types of lettuce and cheese. When the burgers come off the grill, your party-goers can make their burgers just the way they like them. Try these 10 Creative Burger Recipes.
3. Antipasto Platter
Antipasto is a simple, beautiful display of marinated artichoke hearts, roasted red peppers, and olives paired with rustic breads, rich cheeses, and fine deli meats (think prosciutto, salami, and pepperoni). Arrange them in the tray dividers to prevent the various marinades from mingling.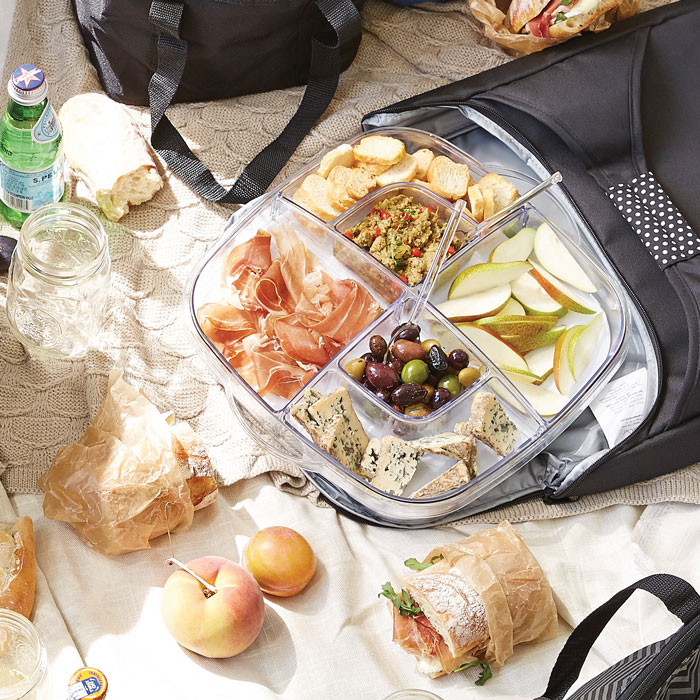 4. Fruit Platter and Fruit Dip
Bring fruit and yogurt dip to your next pool party or picnic. The cooling inserts keep everything chilled for 4–6 hours, even in the sun! Check out these four easy fruit dips made with Greek yogurt.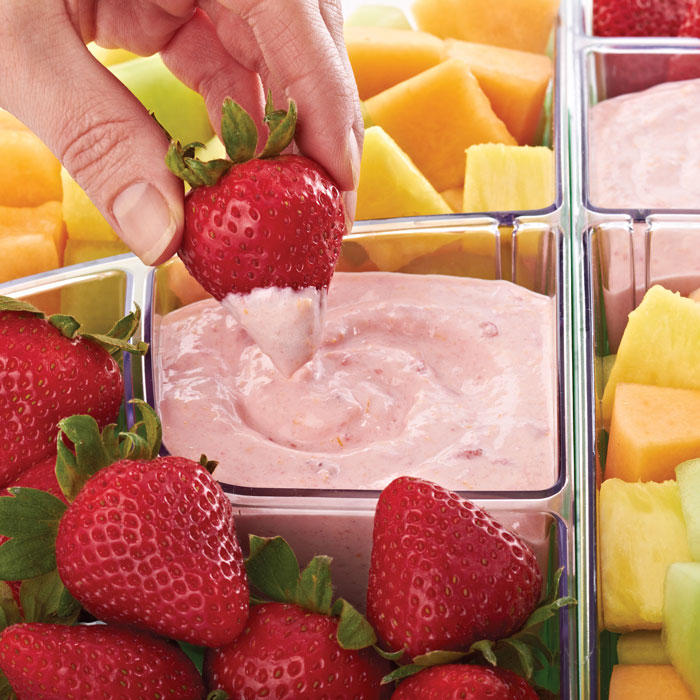 5. Vegetable Tray with Dip
When it comes to the vegetables you can use in a party platter, your options are impressive. Try branching out beyond celery, carrots, and broccoli with these ideas (and save big bucks by avoiding store-bought platters):
Jicama, cut into matchsticks
Snap peas and snow peas
White and/or purple asparagus
French breakfast radishes
Peppers
And, how many times have you seen beautifully prepared vegetables brought down by a plastic tub of dip? If you're putting extra effort into your vegetable choices, they deserve a yummy dip to go with them! Our 3-Minute Dip lets you customize the flavor with any of our rubs and seasoning mixes.
6. Taco Toppings Bar
With the 5-Section Tray insert, you have more space to load up the Large Square Cool & Serve. It's awesome for a build-your-own taco party (or weeknight dinner). Arrange shredded cheese, tomatoes, lettuce, onions, and guacamole in each of the five sections.
Other taco toppers worth trying:
Cilantro
Peppers
Black beans
Salsa
Sour cream
Fresh corn
Shredded carrots
Black olives
The tray keeps everything organized and chilled.
7. Serve a Chicken Salad Recipe
Try this bright, summery Ribboned Melon & Chicken Salad recipe and serve it using the Open Tray insert. This insert transforms the tray (with or without the cooling inserts) into a huge serving platter that's perfect for large salads.
8. Cupcake Carrier
The clear lid and base of the tray snap together, so it's easy to take anywhere. Take out all the inserts and it becomes a protective carrier for cupcakes, cookies, brownies, and other baked goodies.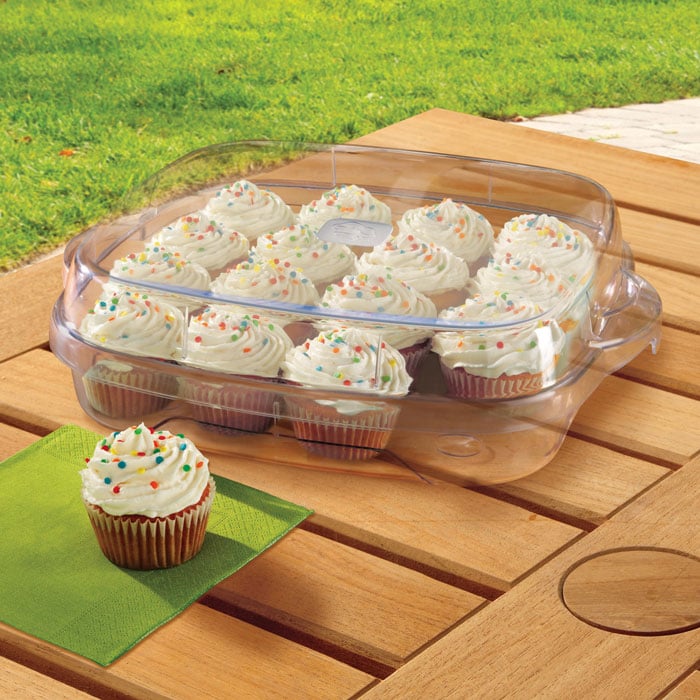 9. After-School Snacks
Unless you serve dinner early, most kids still need after-school snacks to keep them focused on homework.
Fill the Large Square Cool & Serve with healthy snacks that they can grab quickly—think strawberry halves, blueberries, clementine segments, starfruit, baby carrots, whole-wheat pitas, hummus, cheese sticks, granola, and yogurt.
This is simple way to help kids develop healthy eating habits. Teach them they can choose anything from the tray they want, but everything else (including cookies) is off-limits.
10. Deviled Eggs
This tray solves three problems everyone has when they bring deviled eggs to a party—messy transportation, sloppy presentation after the eggs are transferred to a serving platter, and spoilage during a party.
Each of the two cooling inserts has 12 wells (24 total) to keep deviled eggs neatly in place and chilled for easy transport and display.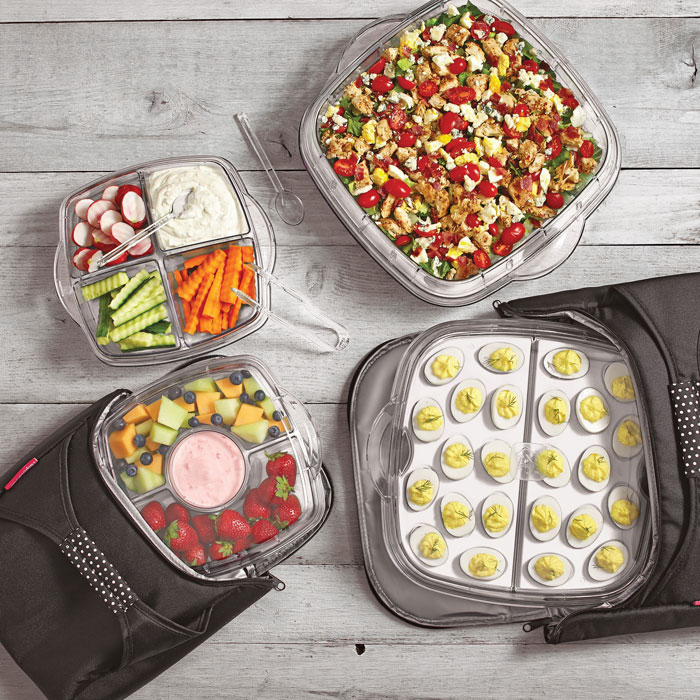 11. Topping Your Ice Cream
Any tray configuration will work well when you create your own ice cream toppings bar. This would be a hit at any kid's party. Fill the trays with crushed candy bars, cookie crumbles, chopped graham crackers, caramel sauce, sprinkles, marshmallows, nuts, strawberries, blueberries, and raspberries.
12. Healthy Snacks on the Road
Instead of packing a big cooler for a mini road trip, pass around a healthy snack tray. The cooling inserts will keep cheese sticks, fresh fruits, and veggies from getting warm in the car.
13. Meat & Cheese Platter
Make a deli platter by removing the divided inserts and arranging your favorite meats and cheeses right on the cooling inserts—flat-side up.
14. Sports Game Dips
Put together a sports fan's snacking dream team. Fill up the tray with an assortment of pretzels, chips, and dips. Your savory dips will stay nice and cool during the entire game.
15. Keep Groceries Cold
Keep the cooling inserts in your freezer so they're always ready to go. Next time you go grocery shopping, throw the inserts into your grocery bags to keep cold and frozen foods chilled during the drive home. Then just pop them back in the freezer.
16. Space Organizer
Remove the cooling inserts and use the divided tray to organize office supplies like paper clips, binder clips, and pencils. It can also keep your craft supplies neat and tidy.
---
Want more posts like this? Check out:
12 Things to Make in a Brownie Pan
3 Reasons the Mix 'N Chop Will Be Your Favorite Kitchen Tool
Spotlight on Cookware: What's a Rockcrok®
Do you like this list? Did we overlook any nifty uses? Tell us how you use the Large Square Cool & Serve in the comments below.