Whether your student is just starting out in a dorm room with just a mini-fridge and a microwave, or has moved into an apartment and needs to build a kitchen from scratch, we've got your back. Here's a list of essential tools for young cooks, perfect for the nights when pizza delivery simply won't cut it.
1. A Healthy Way to Steam
Microwave cooking is made even easier with the Small Micro Cooker, a little pot made for steaming. Use it to cook fresh or frozen vegetables, poach a chicken breast, or heat up soup. The lid doubles as a space-saving strainer.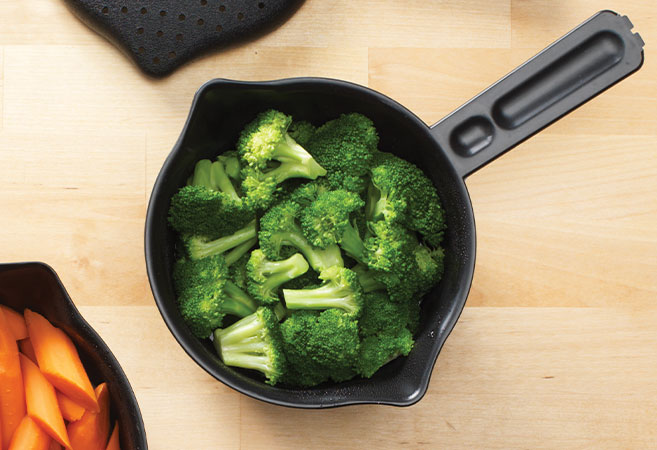 2. Pizza Night (Because You Know it Will Happen)
Make sure that pizza you cook from frozen or, let's be real, heat up for breakfast in the morning gets the star treatment. Cut through slices and crust easily with the pizza cutter, which can even get through deep dish. And a personal size pizza stone can be used in either a microwave or a toaster oven to deliver crisp crust.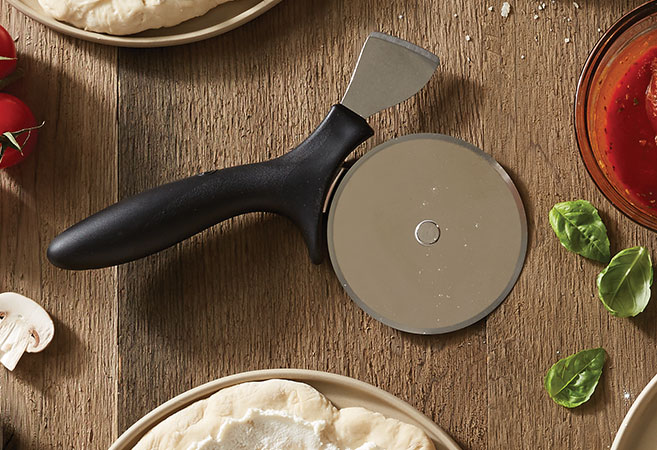 3. A Tastier Movie Night
Make your own healthier microwave popcorn at home and avoid the greasy butter. The reusable popcorn maker uses regular kernels and means students can season their popcorn with whatever they like (we love garlic salt) and control portion size, too.
4. Kitchen Essentials
Coated utility knives are the workhorses of the kitchen, and a few nice knives are especially key when a student is just learning to cook. A basic kitchen tool set contains coated knives along with flexible cutting mats (each one comes with helpful cooking tips and tricks printed right on its surface) and sturdy utensils for the beginning cook.
5. A Hot Breakfast on the Quick
A scrambled egg on a weekday morning always feels like a treat, but it's especially true when you're a hungry student. The ceramic egg cooker makes microwave eggs in a snap, and, as a bonus, it also works to cook oatmeal and even a mug cake.
6. Two-in-one Tool
Most experienced cooks have more spoons and scrapers than they know what to do with, but for the cook who is just starting, the two-in-one scraper saves space and does a lot: it scoops, scrapes, and serves. Tiny but mighty.
7. Stain-Proof Storage
Store your leftovers and heat them in the same container. A Leak-proof glass containers come in a variety of sizes, and have lids that snap securely in place. The 5¼ cup is great for leftovers, the 3 cup is perfect for a sandwich on the go.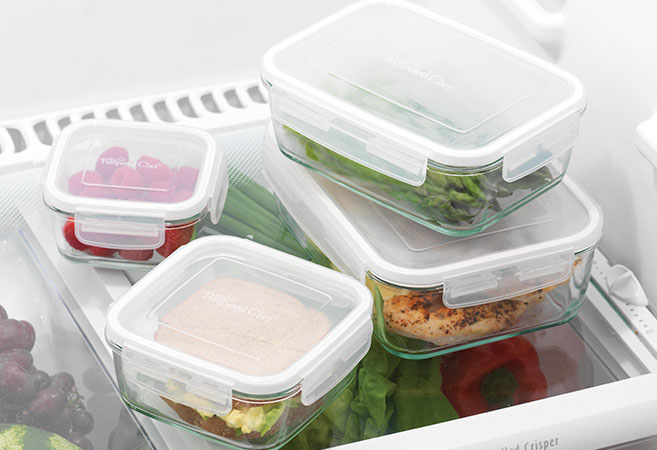 8. Lunch on the Go
Layer a salad into the mason jar set, and it'll keep the dish fresh and the set even comes with a lunch bag and silverware. Put your salad dressing in the lid to keep the vegetables and greens fresh; add toppings like nuts or croutons in the included snack jar.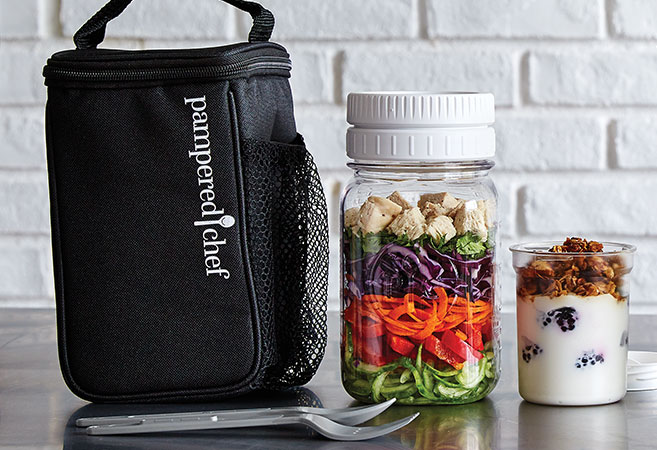 9. The Key to Soup or Broth
It's the kind of tool that you forget you don't have until you need it. The smooth-edge can opener prevents sharp edges and a magnet plucks the lid right off.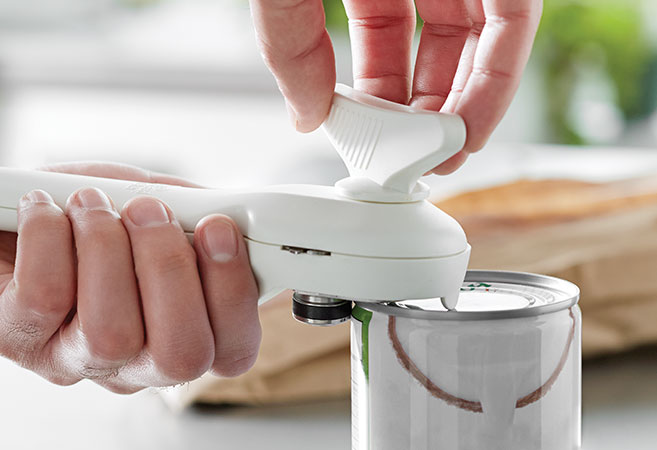 10. Multifunctional Bowl
The small batter bowl isn't your everyday bowl. This workhorse doubles as a measuring cup—and a pour spout and handle make it even more convenient. It works great in the microwave, and the included lid turns it into a storage container.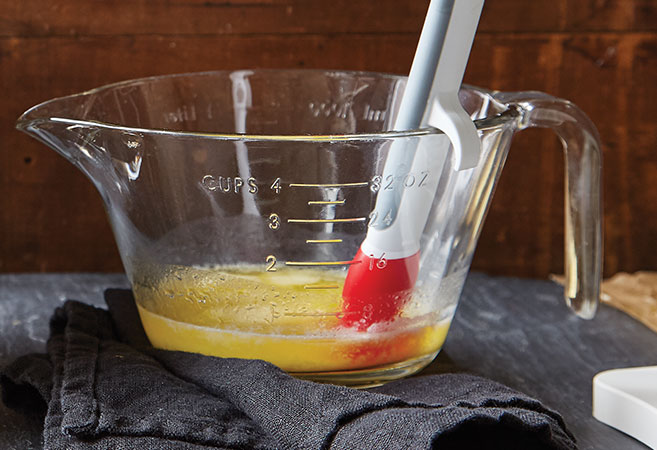 11. Stainless-Steel Storage
College kids need tools that have multi-functions, and this utensil holder has it all: it spins for easy access, it matches any décor with its simple finish, and an included spoon holder that slides out of the base makes it even more convenient.
12. Colorful Kitchen Tools
Might as well have a little bit of fun when it comes to a set of tools. This slotted spoon, slotted turner, small slotted turner and spoon come in bright colors and are priced right for first apartments or dorm room chefs.
13. Weekend Breakfast (and More)
When it's Sunday morning and you're missing home, pancakes will hit the spot. The shaker bottle makes quick work of a weekend treat, and, better yet, also works great for scrambled eggs and protein shakes when you're pressed for time.
14. For the Graduate
Slow cooking is a beginner cook's best friend, and for young cooks in their first home or apartment, a reliable slow cooker is a must-have. The pan in this set transfers from the oven to stove top, is safe to put in the fridge warm, is even freezer-safe, and fits into the stand which transforms it into a slow cooker. The slow cooker set comes with five recipes great for beginners.
15. Collapsible Bowl
This bowl pops open to serve chips, popcorn, or salads. Then it collapses down into a thin disc that fits in any closet or cabinet. When it's collapsed, it also creates a well that can neatly hold chips and dip.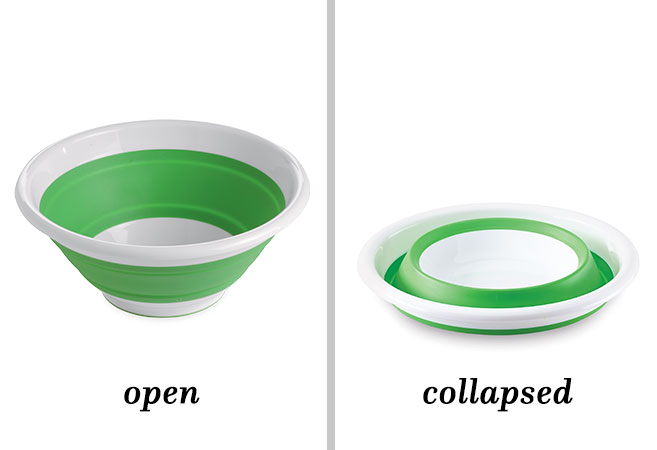 This post has been updated since its original publication.
---
Read More Stories Like This:
Error: View 85c6635kuc may not exist