Charcuterie is popping up everywhere, from food blogs to five-star restaurants to your local grocery store. And while many people think of it as a high-class appetizer you can only get at a restaurant, it's easier to do at home than you might think. All you need are a few tips, the right board, and hungry friends.
So What Is Charcuterie?
It comes from the French culinary tradition of offering a selection of prepared meats like salami and prosciutto. Originally, meat was front and center on a charcuterie board, but now you'll see elements like cheese and antipasto mixed in. These sweet, salty, and briny extras provide a brilliant balance, and give you and your friends the chance to try unexpected combinations.
Think of it as a fancy, adult version of Lunchables®, but way, way more delicious.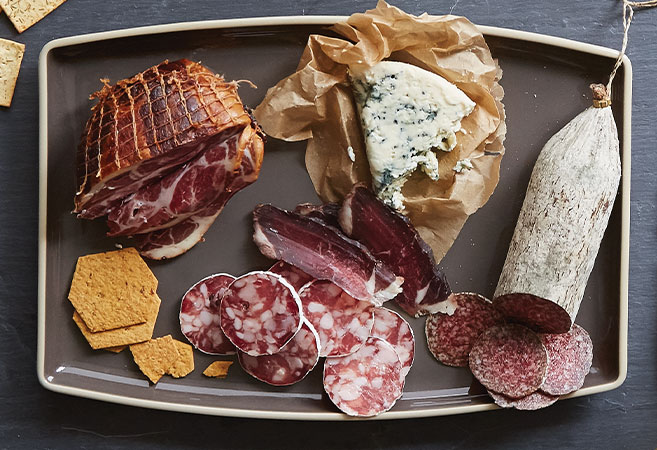 When to Make Charcuterie
Long story short, break out the charcuterie board when you want to impress. Although it's traditionally served as an appetizer, it can be an equally strong stand-in for dinner parties. The variety of textures and flavors lets your guests pick and choose what they want, and the DIY elements make it fun for everyone.
Since boards are 100% customizable, you can make it any time of year, for any occasion. Charcuterie is especially great in the summer when people love to entertain, but are less likely to cook. And when the holiday season rolls around, charcuterie is a classy (and easy) way to feed your friends and family.
Choosing Your Charcuterie Board
While anything from a standard serving platter to a cutting board will work as the backdrop, this is a chance to really up your charcuterie game. Play up the rustic elements of your selection on an ash wood or slate serving board. Or, give it a posh, sophisticated edge on a stoneware platter.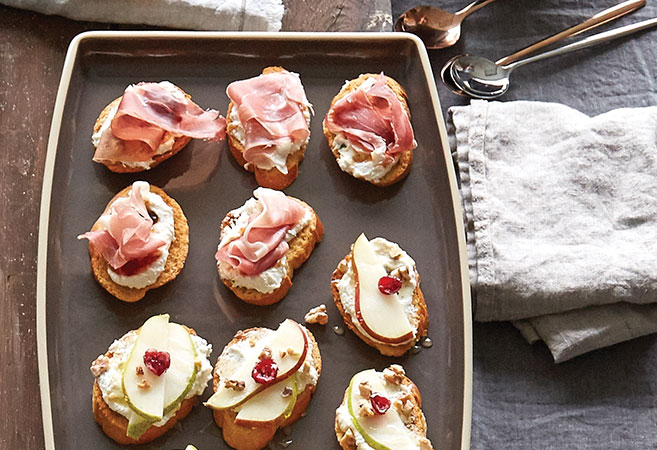 How to Make a Basic Charcuterie Board
Cured sausage. You've definitely come across the beginner's version of cured sausage on a pizza (psst…it's pepperoni), but there are TONS of other international flavors. Try some spicy sopressata or a dry-cured chorizo. If you're feeling lost, the expert at your local grocery store or meat market can help you choose.
Whole muscle cuts. These cured or smoked meats include prosciutto (dry-cured, aged pig's leg), bresola (beef prosciutto), cappicola (dry-cured, single muscle from the top of the shoulder), and smoked ham (serrano ham or jamon Iberico). A little stuck? Talk to the expert at your local grocery store or meat market.
Something bready. Crostini, thin breadsticks, or crackers will add a little texture and crunch.
Something sweet. Salty, fatty meats pair well with dried fruit, spreadable jam, or chutney. Fig jam or dried apricots (or try this Apple & Walnut Tapenade) are amazing additions.
Something briny. Bright and acidic flavors like olives, cornichons, or grainy mustard pair well with the meat.
Cheese pairing. Even though charcuterie revolves around cured meat, we still love our cheese. We like to pair regional meats and cheeses like prosciutto with Parmigiano-Reggiano. Spicier cured sausages can get a cooling balance from goat cheese.
The wine. Pair with a bold red wine or a crisp sauvignon blanc.